Robotics Industry
Robotics Rapid Prototyping & Part Manufacturing
Premium Part provides a range of prototyping and production solutions to scale and meet the global robotics industry's needs dynamically. Our services are reliable, flexible, thorough, and precise, designed to meet the high level of detail, accuracy, and tight tolerances demanded in the manufacture of robots and robotic components. At Premium Parts, we offer our services across various production volumes, allowing all our clients to take advantage of critical production flexibility to optimize budget and respond to bridge the gaps in their supply chain.
Our robotics and robot part manufacturing is specifically achieved through our high, quality-driven process of CNC machining and on-demand 3D printing solutions. Whatever the needs of your business, be it a full-fledged robotic component prototype or functional robotic end effectors, you can rely on Premium Parts to deliver and get you to your target market quickly and affordably.


---
Precision CNC Manufacturing & 3D Printing For Robotics
CNC machining services and 3D printing are the most widely used manufacturing technologies for the robotics industry. At Premium Parts, our breadth of CNC machine services is regularly used to manufacture custom robotic parts with complex geometries and excellent geometrical accuracy. CNC milling and CNC turning operations can achieve high levels of precision and tight tolerances required for making critical parts. At the same time, 3D printing and additive manufacturing is geared towards rapid prototyping and low-volume production.
Examples of general applications of CNC machining services and 3D prototyping for robotics include custom parts, fixtures and jigs, robotic end effectors, and more, all of which are uniquely created and highly tailored to their use case.
---
Why CNC machining for Robotic manufacturing?
• Speed
CNC machine services generally have a comparatively lower leadtime than other production processes. Depending on the part size and complexity, CNC machining can make high-precision parts in  24-72 hours.
• Dimensional accuracy
Dimensional accuracy is critical in robotics. The dimensional accuracy and tolerances achievable with CNC machine service are almost impossible with other production methods. At Premium Parts, we can make machined parts to a standard tolerance of +/- 0.05mm and tighter on request. This is a crucial criterion for robotic applications that work between fixed points, and those that demand high precision in their repeatable movements.
• Mechanical strength
The processing operations of CNC milling and turning are great for churning out parts with high strength and excellent mechanical properties. CNC-machined parts are usually stronger than 3D-printed counterparts.
• Surface finish
CNC is adept at exerting control at the surface finishing of your robotic end parts and components. Depending on the application (gripping, suction, holding, etc.) of your part, surface smoothness, flatness, and roughness may be critical to the robot's functionality. CNC routers and CNC lathes can make parts with up to Ra0.8um and even lower when you explore our additional finishing options.
• Large parts
CNC machining is capable of making huge parts without the need for additional support structures. The multi-axis configuration of the CNC machine also allows for extended reaches and design flexibility.
• Low cost
The near-zero tooling cost associated with CNC machining allows the process to deliver a considerably lower cost-per-unit part for your robotic components. CNC machining is very cost-effective when making mid to high volumes (200 to 500+ parts).
• Lightweight construction
The range of plastic and metal options that can be used along with CNC machining allows you to leverage materials with a high strength-to-weight ratio for making robotic parts. At Premium Parts, our CNC operations can work with aluminum, steel, titanium, and more.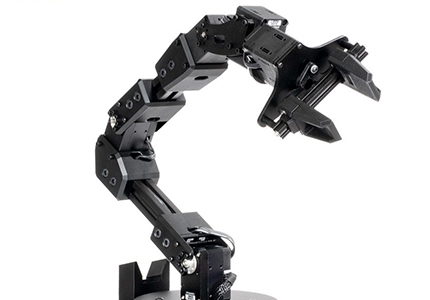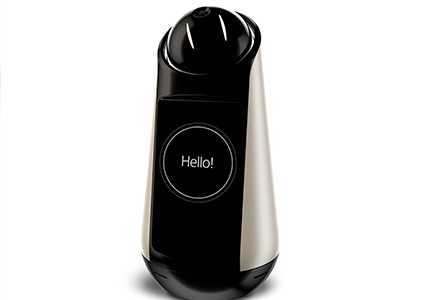 ---
Why 3D Printing for Robotic manufacturing?
• Speed
3D printing may be the fastest method for making low-volume (10-99) units of your part. Product development can accelerate from rapid prototype to finished piece in a matter of hours.
• Complex geometries
Additive manufacturing is capable of achieving intricate design and complex geometries with ease. Some of the parts for robotic applications have delicate structures and geometries that may not be easily attained with traditional manufacturing techniques.
• Direct fabrication
3D printing uses a CAD prototype file and no tooling equipment to make your part, making fabrication directly from digital to physical. Depending on the type of robot, 3D printing may be used in making the major parts, and consequently, create a 3D printed robot.
• Low waste
Unlike CNC machine services and traditional manufacturing processes that remove materials from a workpiece, 3D rapid prototyping and 3D printing build your robotic parts and components from the ground up, using only what is required to complete your parts.
• Low volume production
3D printing is cost-effective for making only a handful of robotic prototypes and parts. If you need anything from a single unit to the lower range of double-digit volumes, 3D printing may be more affordable than CNC machine services and plastic injection molding.
---
Why You Should Work With Us
• Custom, On-demand Solutions
Premium Part can provide custom, on-demand solutions to deal with the specificities of your needs in your supply chain. We can manufacture custom fixtures through 3D printing and CNC machining, end-effectors tailored to meet your business and robotic application needs.
• Design for Manufacturability
Premium Parts performs a thorough design-for-manufacturability analysis, free of charge, to evaluate your design and suggest improvements for cost-savings, functionality, and production. This is particularly emphasized for robotics manufacturing as tight tolerances, and dimensional stability can affect performance. If you do not have a CAD prototype design file, our team of experts will accompany you through every step of the way.
• Excellent Production Volume Flexibility
Our production process for the robotics industry offers prototyping, low-volume, and mass manufacturing. We have built flexibilities around our order volumes through CNC machining, 3D printing, and Injection molding, meaning that there's something available for everyone.
• Rapid Prototyping
Our rapid prototyping options are part of our most popular services for manufacturing in the robotics industry. With 3D printing and CNC machining, Premium Parts can accelerate your part production and make functional robotic prototypes for testing, learning, or practical end-use in as fast as 24 hours.
• Excellent Support Service
Premium Part will support your business through every step of the way with our excellent customer care experience. We understand the importance of responsive quoting and feedback, you can always get our response within 24 hours. Our engineers are also available right from your design stage down to the final part production.
• Quality Guaranteed
Our high-quality 3D printing, precision CNC machining, and vacuum casting will help you make robotic parts and prototypes with excellent dimensional accuracy, tolerances, and cosmetic finishes.
• Material Options and Range
Choose from over 30 plastic, metals, elastomers, and composite materials to make rapid prototypes and low-volume parts suitable for the robotic industry.
• One-stop-shop Service
Our one-stop-shop services at Premium Parts mean that your parts are made in-house from start to finish. Our stringent quality control system and robust process control also mean that our clients in the robotics industry are guaranteed part consistency and excellent finishes.
---
What We Can Make For You
Premium Parts can make high-quality tools, fixtures, and parts for your end-use with your robots. Some of the applications of our CNC machining and 3D printing services for robotic industry manufacturing include:
• Robotic design
• Tooling and fixtures
• Custom housing and parts
• Chassis, enclosures, and brackets
• Part design and prototyping
• Generic and custom end-effectors
• Robotic modifications
• Tooling and jigs
• Custom housing and parts
• Custom robotic end-effectors
• Custom fixturing
• Robotic prosthetics
• Robotic attachment and components
• Human prosthetics
• Animal prosthetics
• Robotic parts and components
• Appendages (legs, arms)
• Fingers
• Racks
• Valves
• Stands
• Control boxes and adapters
• Sensors and actuators
• Internal hydraulic and hydraulic pump bodies
• Cable routing dividers
• Robot and manipulator prototyping
• Automated manufacturing systems, processes, and techniques
• Robot-assisted medical devices
• Creation of smart factories
• Maintenance of industrial robots
---
The Clients We Serve
At Premium part, our range of manufacturing services can serve every player in the robotics industry. Some of our popular clients fall under the categories of:
• Direct Robot Manufacturers
• Robotics-as-a-service (RaaS)
• Aftermarket robotic end-effector manufacturers
• Robotic engineers and design experts
• University robotic and engineering departments
• Industrial and general manufacturing
• Automobile engineers
• Robotics software experts
• Medical Robotics
• Autonomous mobile robots
• Service and diagnostic centers
• Aerospace robotics
• Exoskeleton component manufacturers
• Standalone, collaborative, and production line robots
• Articulated, SCARA, Delta, and Cartesian robot engineers
---
Our Material Options
The materials suitable for manufacturing robotic parts and components must be strong, lightweight, and tough. At Premium Parts, our range of materials that match these criteria include metals, thermoplastics, and composites. Materials suited for use in the robotics industry should also be safe, fire-retardant (where possible), abrasion-resistant. Some of our most common material options for robotic manufacturing are:
• Nylon
• Ceramics and composites
• Natural Rubber, Synthetic Rubber, and Liquid Silicone rubber
• Thermoplastics
• Metal and metal alloy
o Aluminum
o Stainless Steel/Steel
o Titanium
o Brass
o Copper
---
Our Manufacturing Services For The Robotic Industry
• 3D Printing
3D printing and Additive manufacturing is perfect for the rapid prototyping of new industrial robots in plastic or metal materials. Due to its speed and affordability, 3D printing is used for idea/concept testing and making parts with complex geometries in low-volumes. 3D printing is prevalent in robotics for making robotic components and replacement parts and custom end-effectors
• CNC Machining
CNC machining operations are excellent for making robotic parts and components where precision and dimensional accuracy is critical. It is compatible with several materials and can deliver excellent surface finishing for robotic grip, grab, weld, or hold functions and custom material storage racks.
• Plastic Injection Molding
Plastic Injection molding is used to make plastic parts in significantly high volumes. At Premium part, we can create high-quality robotic parts with several resins. This allows you to choose the most suitable material based on your robots' mechanical, cosmetic, and functional needs. Our insert and overmolding techniques can also facilitate the production of composite parts with metal and plastic, rubber and metal, plastic, and rubber materials for complex end uses.
We also offer RIM, reaction injection molding for specialized applications in the robotics industry.
• Polyurethane casting
At Premium part, our vacuum casting has been widely used for making low-volume copies of a piece with excellent cosmetic finishes. They can also be used for making concept models, design mock-up/iterations, design verification, and practical hands-on testing.

---
Compliment Your Part With Our Finishing Options
Surface finish is an integral and crucial part of manufacturing for robotics and robotic components. This is because robots serve specific end-functions that usually involve grip, hold, grab, and more. The functions required the appendages of the robot to be of certain smoothness, roughness, and texture. The right surface finish will enable them to carry out the tasks effectively, without causing damage to your products or business.
Our finishing options also serve other functions like beauty, attractiveness, and protection of part surfaces. See below the list of finishing options we offer for your robotic components and parts:
• Texturing
• Anodizing
• Polishing
• Insert installation
• Media blasting
• Painting
• Electroplating
• Passivation
• Heat treatment
• Powder coating
• Custom
---
Start Here
Get started with your project with Premium Part! We invite you to collaborate with us and take advantage of our financial and industrial capabilities for making high-quality parts for medical, automotive, food processing robotics, and automated manufacturing lines. Working with us is easy. To begin, upload your finished CAD file and receive a free quote through our instant quoting engine. Next, our design experts will reach out to you with a design evaluation.
We offer excellent technical and logistical support every step of the way, helping you improve part design and discussing dimensional accuracy and part finishing. Our 3D printing and CNC machining for low-volume and rapid prototyping services also mean that you shorten production cycles, go from prototyping and make custom end-use effector parts in as fast as 24 hours.